Would you like to join our team?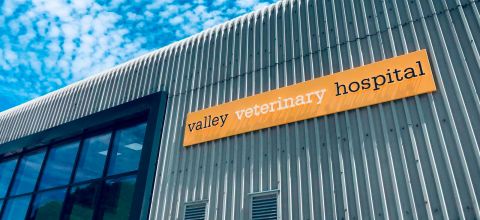 Are you looking for a new challenge in your career? Valley Vets are looking for a vet with a passion for outstanding first opinion care to join a team of 19 vets with wide clinical interests. We are a group that are constantly striving to provide the best possible care for their patients, their owners and our teams. We now have 5 sites in and around the Cardiff area, with our brand new, multi million pound hospital at the centre of them all.
All of our sites are fully equipped with a wide range of modern therapies and technologies including ultrasound, digital x-ray, digital dental x-ray and access to shared radiosurgery units. This allows our branches to be fully self-sufficient to work up and treat their own cases but with the 24/7 support of our hospital with state of the art facilities such as CT, endoscopy and endo-surgery (key-hole), orthopaedic and soft tissue surgery exotics referrals, medical referrals, dedicated dog, cat, exotic and ICU wards and a physiotherapy department including hydrotherapy. We employ a full team of emergency / out of hours vets and nurses to cover those demanding night and weekend shifts. But, if the excitement of emergency work is your passion we can work with you to 'opt in' to cover some weekend day shifts as suits you!
We are looking to expand our experienced team of vets and develop our branch level services. We have an opportunity for 2 vets to join our team.
The first would be for a vet with at least 2 years' experience to join our amazing team of first opinion branch vets. The second role available would be for a senior vet to join our Ystrad Mynach branch to lead the team day to day, in one of our busiest sites, with the full support of the senior leadership team behind them. Whatever your true passion, there is an opportunity awaiting you at Valley Vets. Our day team work 4 days a week, 36hrs. There is currently no weekend or OOH work involved in the role, although we would be very open to discuss other rota options, including a mix of weekday and weekend day work if desired. Our employees benefit from a work place pension, health benefit scheme, £1500 CPD and 5 days CPD. 5 weeks annual leave. RCVS/VDS fees paid as well as your choice of two professional subscriptions. Why not contact us at click apply to begin the next exciting phase in your career. Salary would be dependent on experience and nature of the role taken.