Valley Vets Pet Health Club
At Valley Vets we want to make preventative healthcare easy and affordable, to help you give your pets the best care possible. We believe that prevention is better than cure, and regular health checks provide an opportunity for early diagnosis of health problems that will help your pet to live a long and healthy life.
Our Pet Health Club covers the essential treatments your pet needs throughout life, such as vaccinations, flea and worm treatments and regular health checks, whilst spreading the cost throughout the year by making monthly direct debits. Depending on the type and size of your pet, you will save approximately £125-185 per year for dogs and cats, and £50/year for rabbits.
Essential annual vaccination with full health check
Flea treatments sufficient for a year (dispensed quarterly)
Worm treatments sufficient for a year (dispensed quarterly)
6 monthly health check with a Vet or Registered Veterinary Nurse
50% off primary vaccination course
25% off Kennel Cough vaccination
25% off Rabies vaccination
£10 microchipping
10% off food
10% off routine neutering
10% off dental procedures (excluding referral treatments)
10% off other parasite treatments
Selected complimentary VN clinics (where available)
Click here to sign your pet up now!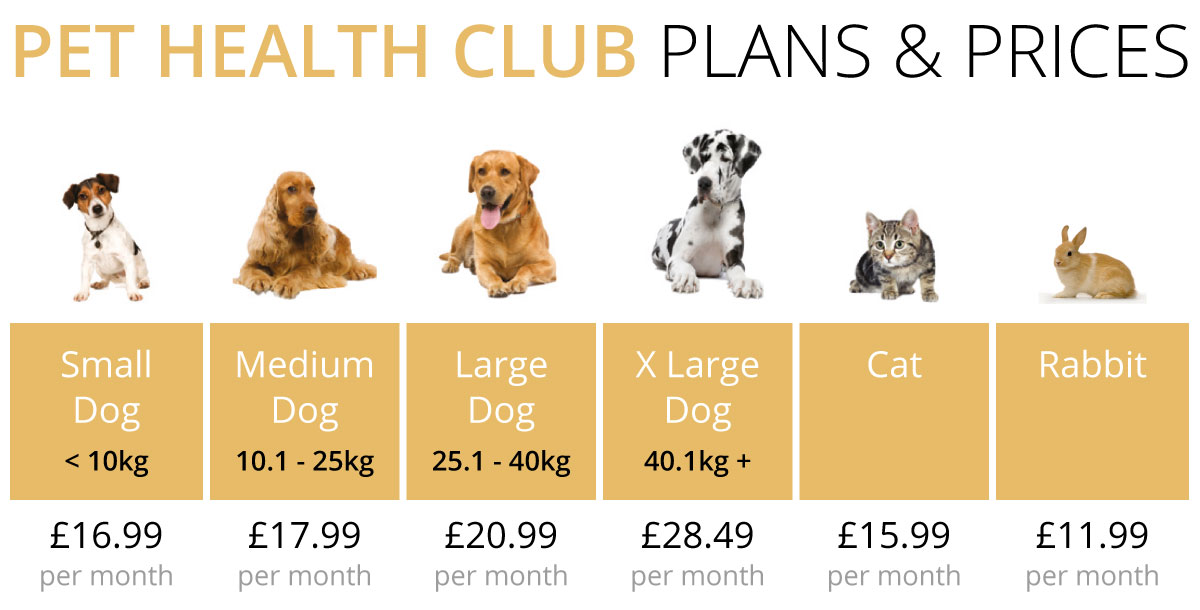 PLEASE NOTE:
Our Pet Health Club is NOT insurance and does not help cover veterinary treatment fees for accident or illness. As always our recommendation for all of our clients would be to ensure adequate pet insurance to cover the costs of veterinary treatment.