Advice on travelling abroad with dogs, cats and ferrets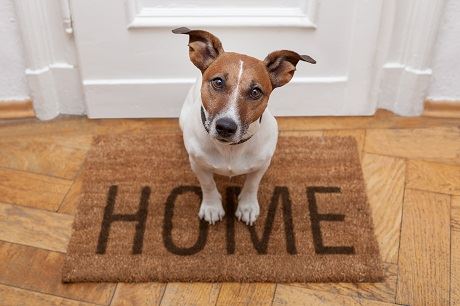 Provided your pet is a good traveller taking him or her abroad can be relatively straight forward. However, it requires some forward planning. Conditions for travel to European Union countries vary from those to non- EU countries and specific information is available from respective governments.
A good place to start looking for information is www.gov.uk/take-pet-abroad.
Things to consider before you travel:
How and when do you wish to travel?
When travelling by car, allow enough time for hold-ups and breaks.
When taking any Dover - Calais or Dunkirk ferry crossings bear in mind that your pet must remain unsupervised in your vehicle for the crossing. The car decks can be very warm and poorly ventilated, more so during summer. Leave windows open and ask the carrier to if you (or one of their staff) could check on your pet during the crossing. Short nosed breeds like pugs, Shi Tzus, larger heavier or older dogs may be more affected by hot humid conditions.
Night crossings or the channel tunnel may be a safer choice.
If you wish to travel by plane you'll need to contact an "approved" airline.
Train travel options are very limited and it is not possible to take a pet on a channel crossing as a foot passenger.
Anxiety, stress and motion sickness
For the journey anxious dogs may benefit from use of Adaptil, cats from Feliway.
Dogs suffering from motion-sickness can be prescribed non-sedating travel-sickness tablets.
Legal requirements to travel
It is a legal requirement for dogs cats and ferrets to have a valid, functioning microchip
They must be vaccinated against Rabies at least 21 days prior to leaving Britain for the first time.
Subsequent journeys do not require a waiting period so long as rabies vaccinations remain up to date.
Duration of validity of Rabies vaccination can vary and is stated in your pet's Pet Passport,
A valid and up to date Pet Passport is essential. It is a very important document containing a record of all essential data
Failure to have a valid Pet Passport will result in your pet being denied access back into the UK.
Check for any specific rules in the countries you are travelling to and through. Many have introduced restrictions or by-laws regarding dogs in recent years.
Certain breeds (Staffie and other bull breeds) may be banned from entering or muzzles may be compulsory in public spaces. Whilst enforcement may often be lax you are advised to know the local regulations.
Are there any health concerns for my pet while abroad?
Some diseases not prevalent in Britain, can be encountered in Europe.
They are often transmitted via tick or insect bites.
Ticks are a significant problem in many areas.
The type and prevalence of potentially transmissible diseases varies between locations and seasons.
Bear in mind that many of our breeds may be more susceptible to succumb than local ones.
Specific risks
Borreliosis ("Lyme disease") has increased dramatically in Europe over recent years and is also a threat to people.
Ehrlichiosis, Anaplasmosis and Babesiosis can all be caught from tick bites and can cause life threatening disease.
Biting insects like mosquitoes, sand flies and even fleas can put your pet at risk of contracting disease:
Leishmaniasis mostly in Southern Europe
Dirofilariasis ("Heartworm disease") across Europe.
What can I do to protect my pet?
It is very difficult to quantify the risk of contracting a disease but it is relatively easy to reduce that risk through preventative measures.
We can advise you on products to protect your pet.
Ideally, contact us a month before your planned departure.
In high risk areas, sand flies and mosquitoes can be avoided by staying away from damp areas, especially at dusk and dawn, or use protective netting.
Checking for and removing any ticks from your pet daily is a good idea even when anit-tick products are used. Ask one of our staff to demonstrate the safe way to remove a tick.
Local vets at your destination can be a useful source of information about specific issues in their area.
What specific treatments must my pet have to allow him/her to travel?
Dogs need to be treated for tapeworm with an approved product by a vet before their return to UK. This is a legal requirement and needs to be done 1- 5 days (24- 120 hours) prior to your return and documented in the Pet Passport by a vet.
Keep a note of the vet's telephone number in case of any queries during your return.
Don't take risks with the timing. If you are too early or too late your pet won't be allowed to travel back with you. This is also true if any other part of the Pet Passport does not comply with the rules or if the microchip can't be read. Double-check everything you can at home before you leave.
Finally, should your dog or cat become ill after your trip, even months later, mention your travelling to your vet because it could be relevant.
This information is correct at the time of writing. However, rules and regulations change from time to time and it always an owners responsibility to ensure that they and their pet meet all criteria required to travel through and to specific countries in Europe and beyond.