Nurse Awareness Month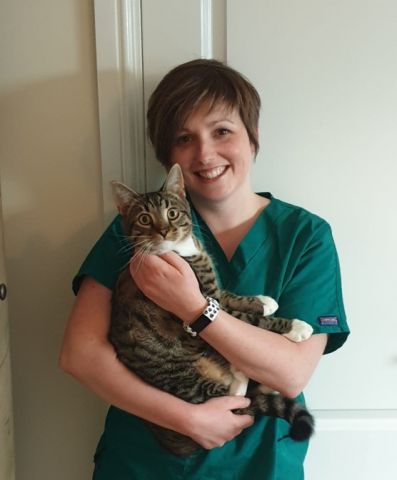 ⭐Kate Read - RVN at Valley Veterinary Hospital⭐
Kate has been a qualified RVN for 5 years but has nursed for 10. Most of her qualified life has been spent working nights as part of the Valley 24/7 Team. She also has a Certificate in Emergency and Critical Care.
She trained on the job, and worked in practice whilst attending college once a week. Kate says 'It was 3 years of hard work, juggling a full time job with coursework and exams'. Her advice for anyone wishing to pursue a career as an RVN - 'It can be tough both emotionally and physically. It's not just playing with animals all day. Not only are we a carer for other people's pets we are a radiologist, a lab technician, a cleaner, a receptionist, an anaesthetist, a phlebotomist, a shoulder to cry on, a paw holder and a midwife to name a few...'
Kate loves her job, working nights and says no two are the same. The Team have no idea what could come in and what patients are being hospitalised. Caring for her patients is the best part, the anorexic patient that starts to eat for the first time because you've had the time to sit with them tempting them with all sorts of food, the patients that are feeling better because you've helped to care and look after them. She also enjoys the medical side over surgical, pain management and analgesia plays a big role in that.
Kate's favourite part of being an RVN is her patients. 'We see and treat such a wide variety from cats and dogs, to all our British wildlife, right the way through to exotic species. I love that the work is varied and no two nights are the same. I also work alongside some fantastic people.'
She has five hand rears to her name, 4 kittens and a fox cub!! The fox cub was brought in to the practice after being found on a roadside without its mum and siblings. Her eyes were only just open so she was very young maybe around 2 weeks old. Kate had her for a few nights until she found a wildlife rescue to take her on.
The problem Kate has with hand rears is that if they come home, they never leave! She would be overrun if she kept taking them on. The 4 kittens that she hand reared are now called Tiny Face, Ava, Margret (Maggie Moo) and Squishy or Philip Squisherman when he's naughty!!!
Tiny Face and Ava will be 6 this year, Margret 5 years and Squishy is her most recent, he's now 8 months old and by far the naughtiest.