Nurse Awareness Month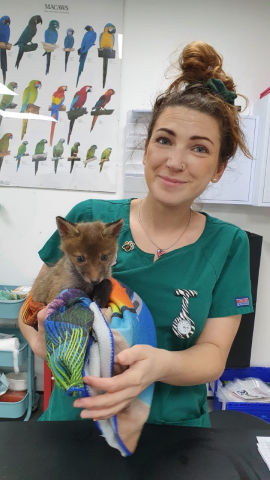 ⭐Lauren Valentine - RVN at Valley Veterinary Hospital⭐
Lauren has been in practice for 12 years and an RVN for 8, after qualifying as a diploma nurse. She is based at VVH and works as part of our amazing Valley 24/7 team.
She loves being an RVN and how different every day can be. Her role, enables her to merge her passion of science and animals to make the perfect job.
Lauren's advice to anyone wanting to pursue a career as an RVN – 'Work in practice or with animals, prior to starting training to get a good understanding of animal behaviour and needs. Gain work experience in a vet practice so you are familiar with what the job entails.'
Her favourite part of her role is emergency medicine and wildlife. Using these skills she's been able to travel and help animals around the world. Lauren said – 'Our job is universal and I think that's what makes it so satisfying, that we are not localised to one area of the planet.'
Over her career, Lauren hasn't hand reared your typical puppies and kittens, but has had the pleasure of hand rearing, vervet monkeys, pangolins, a rhino and a cheetah.