Vets & their pets..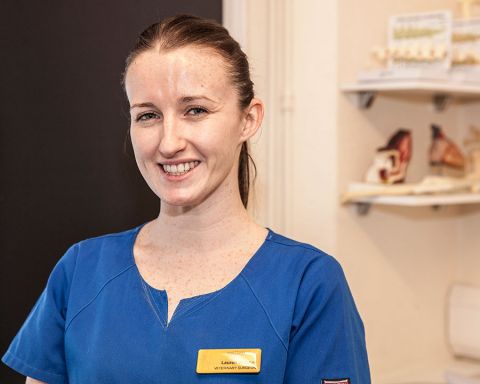 Our Vet's and their pets..
Lauren Butcher is one of our vets based at our Cardiff Hospital. Lauren has two dogs, an 11 year old Chocolate Labrador called Buddy and a 3 year old Terrier cross called Doug. Lauren tells us all about them below.
Buddy is a laid back but very intelligent boy, he has a body clock so accurate he will ask for his lunch at bang on 12 and tea at 4pm. A minute late and you're in trouble. Doug is the complete opposite, totally bonkers and not too intelligent but is all the more fun to be around because of it.
Buddy was bought as an 8 week old puppy as a family pet just before I went to Vet School.
Doug was a rescue at about 6 months old - he came in with the dog warden at my previous practice and came home with me instead of being sent to the rescue centre.
Buddy has hip dysplasia and consequently quite bad arthritis. He is on long term anti-inflammatorys, pain relief and joint supplements. He also goes to hydrotherapy which helps a lot. Doug is fit as a fiddle, there's no treatment for a lack of common sense I guess! Buddy loves chicken but really being a Labrador anything that is edible is fair game and he is on a constant 'diet'. Doug is not quite so food orientated but does love having some gravy on his biscuits on a Sunday.
Both of the dogs love exploring new places and the beaches in West Wales are a favourite in the summer months. Doug is totally obsessed with tennis balls and access has to be limited to stop him living his life at 200mph.