Cooper's Tale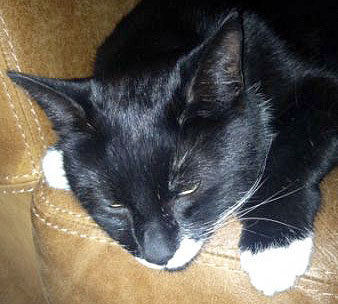 (Article contains scenes of open wound).
Cooper was seen by the vets at Valley Vets after his owners noticed an injury to his tail and left back leg.
Cooper was in a state of shock when he arrived and initial examination revealed that he had sustained severe trauma to his left back leg and tail. The most likely cause of his injuries would have been a road traffic accident. Fortunately, Cooper did not sustain any injuries to his head. Head injuries are very common in road traffic accidents and even some visually minor injuries can have severe consequences.
Cooper was admitted to the Hospital for initial treatment of shock. This included intra-venous fluids to maintain his blood pressure, pain relief and antibiotics. Once Cooper was stabilised he underwent a general anaesthetic to further assess his injuries.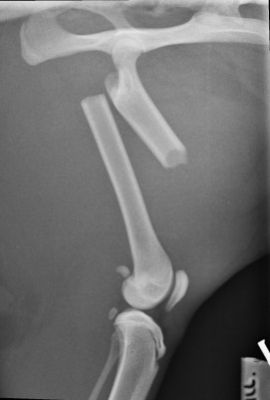 Cooper's tail was unfortunately too damaged to repair and the best course of action was amputation. Radiographs (X-Rays) were taken of his back leg and they revealed a fracture of his femur (thigh bone).
Examination also revealed that Cooper had a severe wound to his left back paw and he had two crushed toes.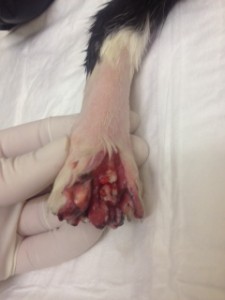 The wounds were cleaned and his paw was bandaged.
Cooper remained bright, comfortable and relaxed and he loved having a fuss from the nurses. His relaxed nature made his ongoing treatment so much easier.
After two days cooper was transferred from our Hospital in Ystrad Mynach to our Hospital in Cardiff where Mr Harry performed the surgical repair of the fracture.
Cooper recovered well from the surgery and went home on the same evening of the surgery, to start his long road to recovery. Cooper had to be kept confined for a number of weeks and his owners had bought him a large cage and a brand new bed. They also plugged in a Feliway diffuser (Feliway is a pheromone that reduced stress in cats) for him.
Coopers ongoing treatment involved repeated bandage changes of his injured paw, and once the healing process was well underway, a second surgery was performed to amputate the two crushed toes.
Radiographs were taken again six weeks later and showed that the fracture was healing well. A further four weeks passed before the pins used to repair the fracture, could be removed.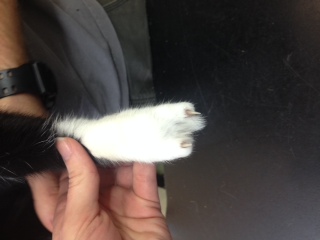 Three months after his accident Cooper was back to normal. He was even starting to go back outside again.
Cooper is an extraordinary cat and everyone at Valley Vets can not be happier that he has made a full recovery.
We wish to thank Cooper's owner for allowing us to share his story.